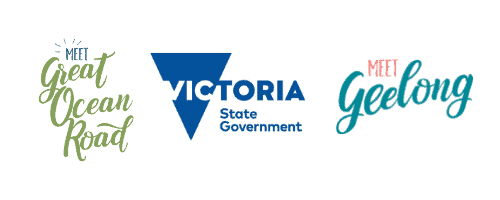 Business Events Support Fund
In response to recent challenges Business Events Geelong in partnership with Regional Development Victoria and Great Ocean Road Regional Tourism, has established a generous $200,000 incentive program. The program, backed by the Victorian State Government's Regional Recovery Support Fund, will provide eligible business events of up to any size a financial incentive to the value of $50 per delegate.
What is a business event?
The Business Events industry defines a business event as any public or private activity consisting of a minimum of 15 persons with a common interest or vocation, held in a specific venue or venues, and hosted by an organisation (or organisations). For further information click here.
How can the assistance be used by a business events organiser?
Business events successful in receiving incentive support will be requested to demonstrate how the financial assistance is being used against one of the following;
Welcome / civic reception;
Gala dinner;
Venue hire;
Accommodation;
Engagement of a local Professional Conference Organisers (PCO);
On-the-ground transportation;
Pre or post conference related activity e.g. field trips and team building experiences;
Other activities that stimulate the local businesses within the regions e.g. guest speaker gifts, printing, photography, corporate social responsibility (CSR) initiatives.
Am I eligible?
Please ensure your business event meets the following terms and conditions;
The business event is not yet confirmed to occur in the Geelong, The Bellarine or Great Ocean Road regions;
You have 15 or greater number of delegates attending, with a minimum of 30% of attendees not currently residing in the region;
Your business event must be confirmed by the 30th June 2022;
Your business event is to be held prior to the 31st December 2023;
You must use the services of Business Events Geelong to assist in sourcing a venue or service;
Your business event must be held at a participating business.
Should your application be successful a member of our team will be in touch within 48hrs of receiving your application to assist in sourcing your preferred venue and suppliers. If you have any questions please contact Dana Broekhuizen on 0481 482 992 or email dbroekhuizen@begeelong.com.au.
The Business Events Support Fund