Geelong's Provenance Wines Scoops Major Wine Award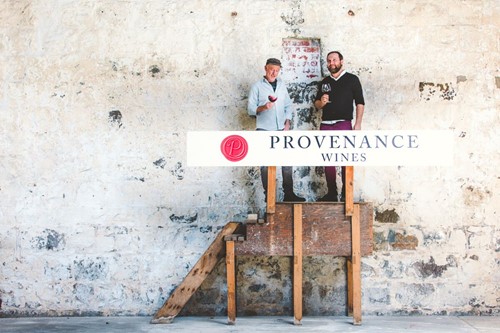 Geelong based Provenance Wines has been named the "Best Value Winery in Australia' by the prestigious 2019 James Halliday Wine Companion.
Leading wine writer and critic, James Halliday reviewed eleven Provenance wines, awarding a highlycoveted value rosette to ten wines – demonstrating they are excellent value for money. Ten wines also scored 95 or above (out of 100) – signalling they are of a gold medal standard.
The James Halliday Wine Companion is recognised as the industry benchmark for Australian wine, more than 10,000 wines are tasted annually for the book leading to more than 2,800 winery reviews. Each year, only five wineries around Australia receive an award for an outstanding feature, Provenance Wines took top honours as the Best Value Winery.
Owner and winemaker Scott Ireland said he was equally thrilled and humbled to be recognised by James Halliday for this prestigious award.
"Australia is home to so many amazing wineries, high quality wines and dedicated winemakers, for James to choose Provenance as the best value winery in the country is truly humbling," he said.
"Provenance means the place of origin and everything we do, from vineyard to glass, is about preserving the identity of our vineyard sites. We strongly believe the match of particular growing conditions to grape variety is critical to making the best wines. In short, high-quality vineyard provenance enables us to make high quality wine."
Provenance Wines grapes are grown in select vineyards across the Geelong and Henty wine regions of south-west Victoria, as well as in Ballarat and Macedon. These cool vineyard sites add clarity and verve to our wines, our main wines being Chardonnay and Pinot Gris for whites and Pinot Noir and Shiraz for reds.
"When you taste our wines, you are tasting a slice of the country it was grown in, a slice of a season and a slice of our craft," said Mr Ireland. It has been a busy year for Ireland, Vogel and the Provenance team, with the opening of a new winery and cellar door at the historic Fyansford Paper Mill on the outskirts of Geelong. The new venue, which opened in March, boasts a stunning Barrel Room where guests can taste Provenance's award-winning wines as they graze on share platters.
Built in the 1870's to house a 100ft long paper making machine, the impressive bluestone Barrel Room overlooks the wine making facilities, where all their wines are made.
"This award comes at the perfect time, with our new winery and cellar door allowing customers to come along and meet with our team and experience our wines first hand. We are incredibly proud of the venue and took great care when renovating the building, ensuring we retained its historic integrity and charm," said Sam Vogel, Ireland's business partner and co-winemaker at Provenance Wines.
The Fyansford Paper Mill is one of Australia's few remaining original paper mill industrial complexes.
The precinct, on the banks of the Barwon river above Buckley Falls, is home to a variety of heritage bluestone buildings. In addition to Provenance Wines, visitors will also find resident artists and a café on site.
Provenance Wines is located an easy one hour drive from Melbourne, and can be accessed by turning onto the Hamilton Highway off the Geelong bypass (M1). Lower Paper Mills Road is approximately three minutes from the M1 turn-off.
Provenance Wines is open daily from 11:00am to 6:00pm, they accept both bookings and walk-in guests. For more information, visit www.provenancewines.com.au.
Sign up to stay up to date with all the latest news