Meet our industry: Karen Davidson, Director, For the Love of Grape
If there's one thing our region does well, it's wine. Our warm and temperate climate is practically made for creating the perfect tipple. So if you're interested in bringing a group to experience each and every one of our cellar doors, you're going to need someone who knows their vino. Enter wine expert Karen Davidson, the director of For the Love of Grape. She sits down with us to discuss exactly what her company does and how she can assist corporate groups.
Tell us a little bit about For the Love of Grape
For the Love of Grape began for one main reason: my love of wine! I started operating in 2008 in the Bellarine Region back when it was a relatively small wine region, so I could not help but fall in love with wineries in the area.
Not only did the Bellarine provide amazing cool climate wines, but the people were passionate about their wine and the scenery was just breathtaking. I wanted to help showcase this wonderful region.
Fast forward 11 years  and we have extended our services to many other regions including Echuca, Moama, Yarra Valley, Warburton and Mornington Peninsula.
What do you love most about your job?
Probably the stories that come from our groups after the tours or finding out the true reason for the wine tour. We have had proposals, celebrities and inspiring stories from people running a fundraising tours for a charity.
Annually (along with Kindle Partners) we donate a wine tour to The Challenge – supporting kids with cancer – Ball. The auctioning of these tours is one of the highlights of the evening and it's always a great pleasure to work with the  the successful bidders to organise their group tours.
At times our host roles have included dressing as a bumble bee or allowing a lock of their hair to be removed for the enjoyment of their group (this is of course optional).
However, there are of course some stories that happen on tour but must stay on tour…
My favourite responsibility of all would have to be research and development. We regularly visit newly opened and various venues in the region to sample products and new vintages. It's a tough job…
Tell us a little bit about your corporate group tours
What is important to note is that we are not a bus company that has decided to include wine and corporate activities. We are a professional wine tour company that offers a high-quality service to suit the needs of each of our customer requirements. All of our friendly hosts have been chosen for their customer service and their ability to make our guests comfortable.
Leveraging my extensive corporate and program management background, For the Love of Grape (or FLOG as affectionately known to my staff) is built on principles of providing excellent service. We're a company that can be trusted; when we say we will call you back, we do!
As we tailor to clients specific needs (including religious, cultural and dietary) we spend a lot of time with guests in the planning phase. We have plenty of options available and we love the unusual requests to keep us on our toes eg horse riding, keeping the tour a secret from the guests who thought they were going to a worm farm, creating a quiz to be completed during the tour (not always wine orientated!)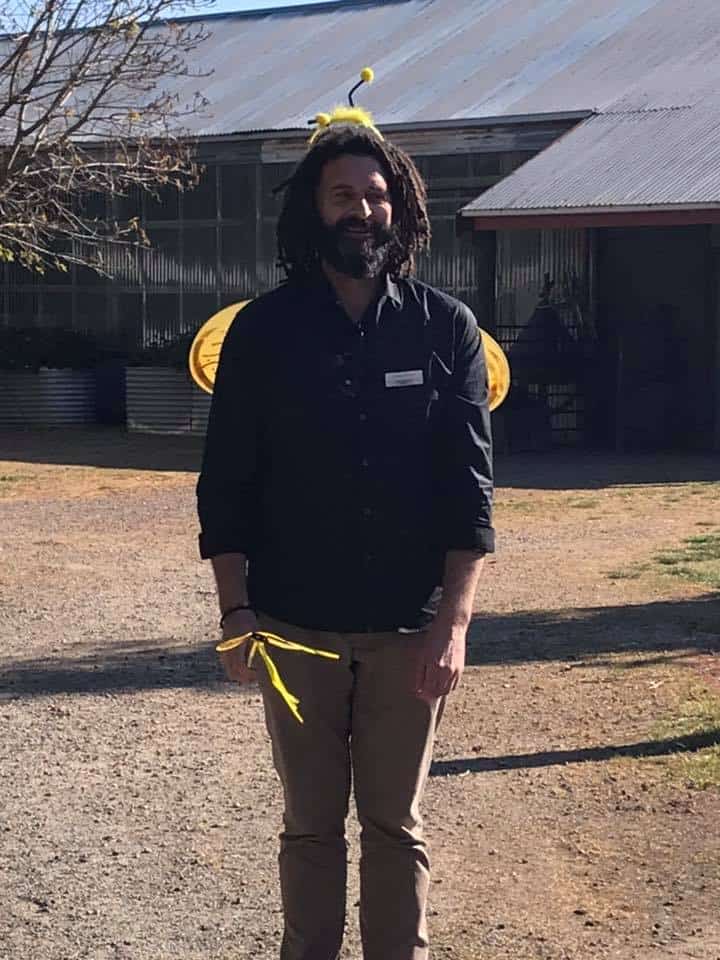 Can you give us a rundown on what a typical itinerary looks like?
As all our corporate tours are all different and tailored to suit customer requirements, we don't follow a standard itinerary.
One of our favourite tours started with Segway Olympics at a winery, followed by lunch at another winery then wine, cider, beer and cheese tastings at the final venue. At the beginning of the Segway activity, there were quite a few members who didn't want to participate – by the end we had 100 per cent participation rate with so much fun, laughter and competitiveness.
Bottles of wine as the prize, of course, helped with this. It was great to watch the members of the group really come together and there was far more chatting after this team building activity.
Another tour highlight we created for a large international electronics company for 200 guests. With four coaches we headed out to the wineries showing our overseas guests some of the gorgeous scenery in the region along the way.
This group had various requirements with guests coming from many different countries. We worked very closely with our lunch venue to ensure all dietary and religious needs were accommodated. Comments from some of the members about the food being fresh, tasty and the best they had since arriving in the country were heart-warming.
We finished with a visit to a chocolaterie, which made for the perfect chance for members to sample some Australian chocolate, with many guests choosing to purchase more for later.
Another of our large corporate groups who were participating in a multi-day conference enjoyed visits to some of the lesser known venues in the region including a spectacular lunch with wine and tastings at Gosling Creek followed by beer infused gelato dessert at Forrest Brewery . It was a very successful day and a great way to reward staff!
Our Pamper and wine tours are superb for smaller groups with visits to one of our glorious day spas for pampering (massage, facial, pedicure or manicure) to begin the day followed by a lovely, leisurely lunch at one of the wineries then a visit another venue for guided tastings before being returned.
Do you have a personal favourite tipple that you'd care to share with our audience?
That is like asking a parent who their favourite child is!
Why should planners consider Geelong and the Bellarine for their next event?
When we first started, the Geelong/Bellarine offered an intimate experience without the crowds with breathtaking views.
Over the past five years, this region has expanded with a larger variety of wineries, activities and more produce to plate options. Also on offer is beer, cider, gin, whiskey and of course our ferry! It is a very exciting time for this region.
Is there anything else you would like to share with our readers?
Wine tours don't need to be all about wine. Think about including one of the many team building activities on offer (archery, bubble soccer, Segway). Add a visit to a Brewery, Cider House or Whiskery (or a venue that offers all these plus wine). If you're coming from Melbourne why not include a trip on the ferry – its a lovely relaxed and picturesque way to arrivel into the region. This can be offered for both transfers or just one way. Our tours are a great way to finish a conference, as a reward for staff, as part of a planning day and work incredibly well for Christmas Celebrations.
Sign up to stay up to date with all the latest news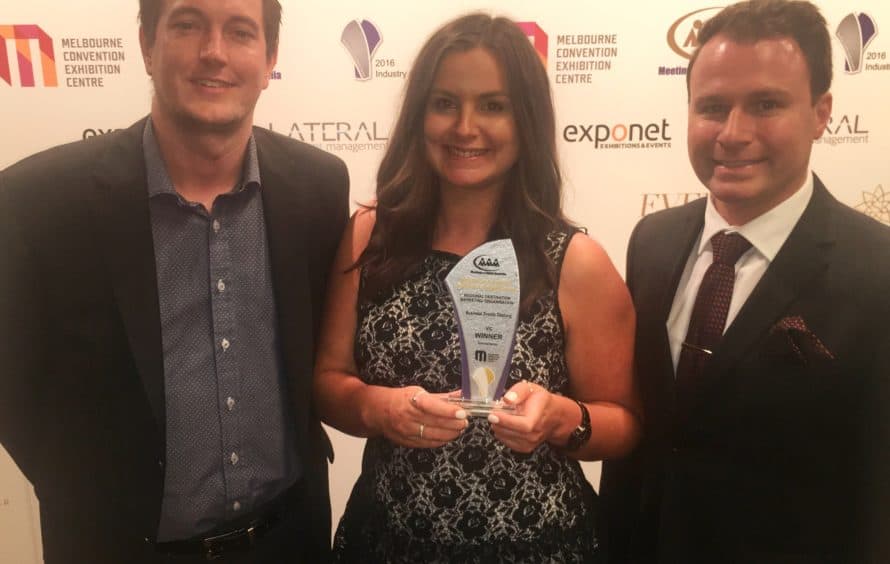 Business Events Geelong was awarded winner of the Regional Destination Marketing Organisation category at the Victorian 2016 Meetings & Events Australia (MEA) Industry Awards,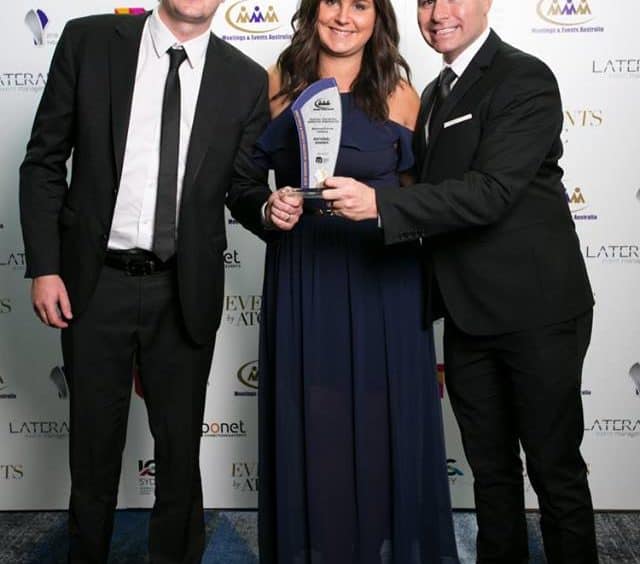 This is the third successive year Business Events Geelong has taken out the category!