Next Level Skirmish unveils brand new archery field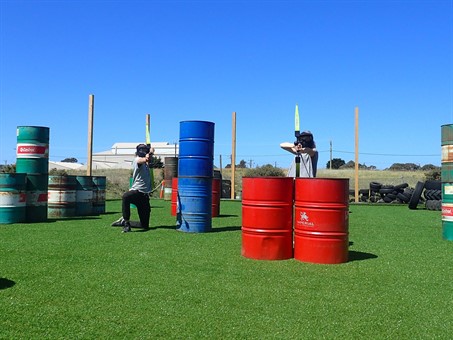 To a lot of people skirmish may only mean paintball, and that's okay. But it is a wider world than you might believe at first.
Recently, a new movement of Skirmish has appeared on the scene called Archery Attack. Archery attack is a fast-paced action sport pitting two teams against each other, armed with bows and safe-rubber tipped arrows.
Safe, yet adrenaline inducing, players demonstrate quick thinking, teamwork and ability under pressure as they fight to eliminate the apposing team in various exciting game modes.
With space available and visions of re-enacting scenes from The Hunger Games, the team at Next Level Skirmish couldn't resist building its own Archery Attack field.
With a little bit of earth moving, and a bit of elbow grease – the experience is now available at Next Level Skirmish in Geelong.
"At Next Level Skirmish we have loved and played laser skirmish with all ages and abilities since foundation, upgrading along the way," said Mitchell Thomas, Deputy Manager, Next Level Skirmish.
"We wanted to change our name and style to reflect that we really have taken the next step in skirmish. We haven't heard of another skirmish running both platforms anywhere else in the country yet."
"Our archery field has an athletic feel due to its level-fake turf base, this contrasts our larger laser skirmish field's natural base, simulating a realistic battlefield. This way we can offer the best of both worlds, two unique experiences.
Both archery and laser skirmish will have your teams smiling, said Mitchell, adding that there are competitive corporate booking prices available.
Click here to learn more about the all-new experience.
Sign up to stay up to date with all the latest news