5 of the Best Christmas Party Activity Ideas
Are you over looking for a different activity for the annual Christmas Party? We have collated 5 of the best ideas in Geelong and The Bellarine!
Christmas wine tours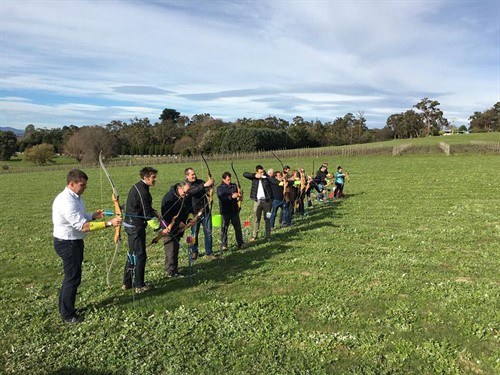 The team at For the Love of Grape can help you celebrate with a guided wine tour of Geelong and The Bellarine. Or, if you're feeling a bit adventurous – why not add a team building activity to your tour (its loads of fun!!). Contact the team to chat about all the options.
Get active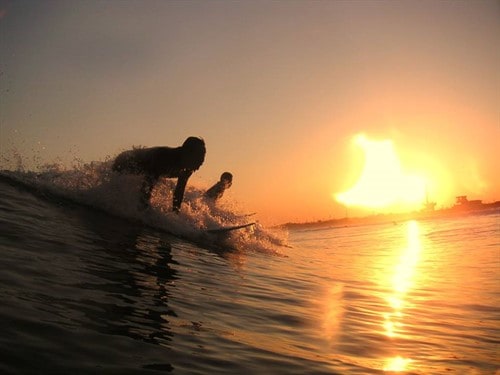 Well, the beach is a good place to start. Ocean Grove beach to be exact, Go Ride A Wave (who do so much more than surfing) can organise an afternoon of fun and games. Start with some surfing and add in beach Olympics or an amazing race! There are so many other options to choose from too, just get in touch with the team and they can help you out. Now that's different!
Don't want to get wet?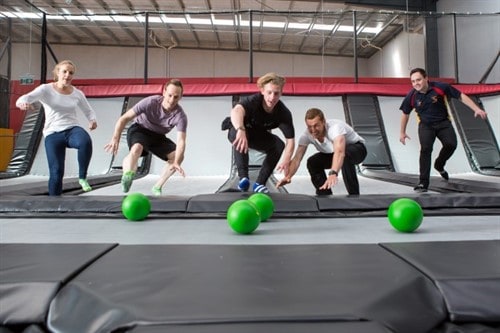 Supatramp offer engaging off-site corporate Christmas parties that are FULL-ON FUN! Designed to bring the team together, your staff can enjoy hours of action-packed activities… Leap into the festive season with over 80 connected trampolines for you to attempt your best flips and tricks, including a supa air-mat (the softest, safest landing, ever!) and wall running that will seriously get the heart racing.
Or,
Conquer the Clip N' Climb arena, with 25 exciting rock climbing walls that challenge individuals at any level, then dive into the action with a staff trampoline dodgeball ball game that will seriously bring out everyone's competitive side! Your team will test their limits with trust drops, supa slam competitions, blind-folded sliding and exciting team racing activities. It's sure to be a Christmas party like no other!
And the best part? You can tailor the event to suit the needs of your team… You'll get a private function room and a friendly host – but there's also plenty of optional extras including transport arrangement and catering options available.
Take the thrill to the next level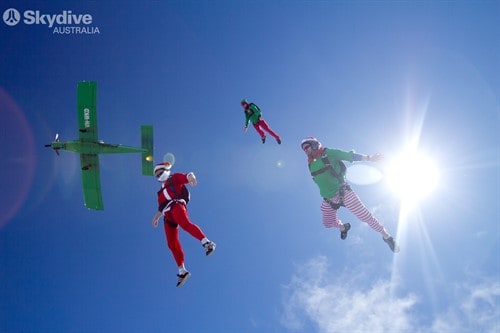 Ever thought about SKYDIVING?
Skydive Australia will help break the mould for this year's staff Christmas party with a unique, fun activity. Experience the ultimate thrill of freefall at over 200km/hr for up to an insane 60 seconds, and then float under canopy for 5-7 minutes soaking up the spectacular views from above.
Take a step back and get in touch with your creative side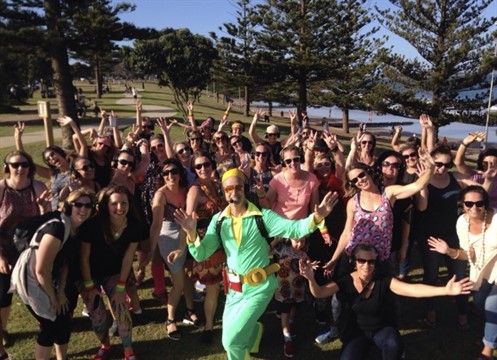 Revitalize Lifestyle can offer an array of different activity ideas. Start with some seated massages, allow the team to relax into the festive season. Then, pick up the pace and have by a Workplace Dance Off session; it's interactive, creative, and most importantly – lots of fun. In groups staff dress up in costumes and choreograph a song and then perform it to their team. Finish off with a silent disco, dance around the streets of Geelong as Guru Dudu takes the Silent Disco phenomenon to a whole new level.  Everyone wears headphones (supplied) and hears the commentary from Guru Dudu while you move to a dance-mix of uplifting faves from the 70's, 80's & 90's.  Revitalize Lifestyle can offer this and more, so get in touch with the team here.
Sign up to stay up to date with all the latest news