Geelong and The Bellarine on the map for Asian incentive planners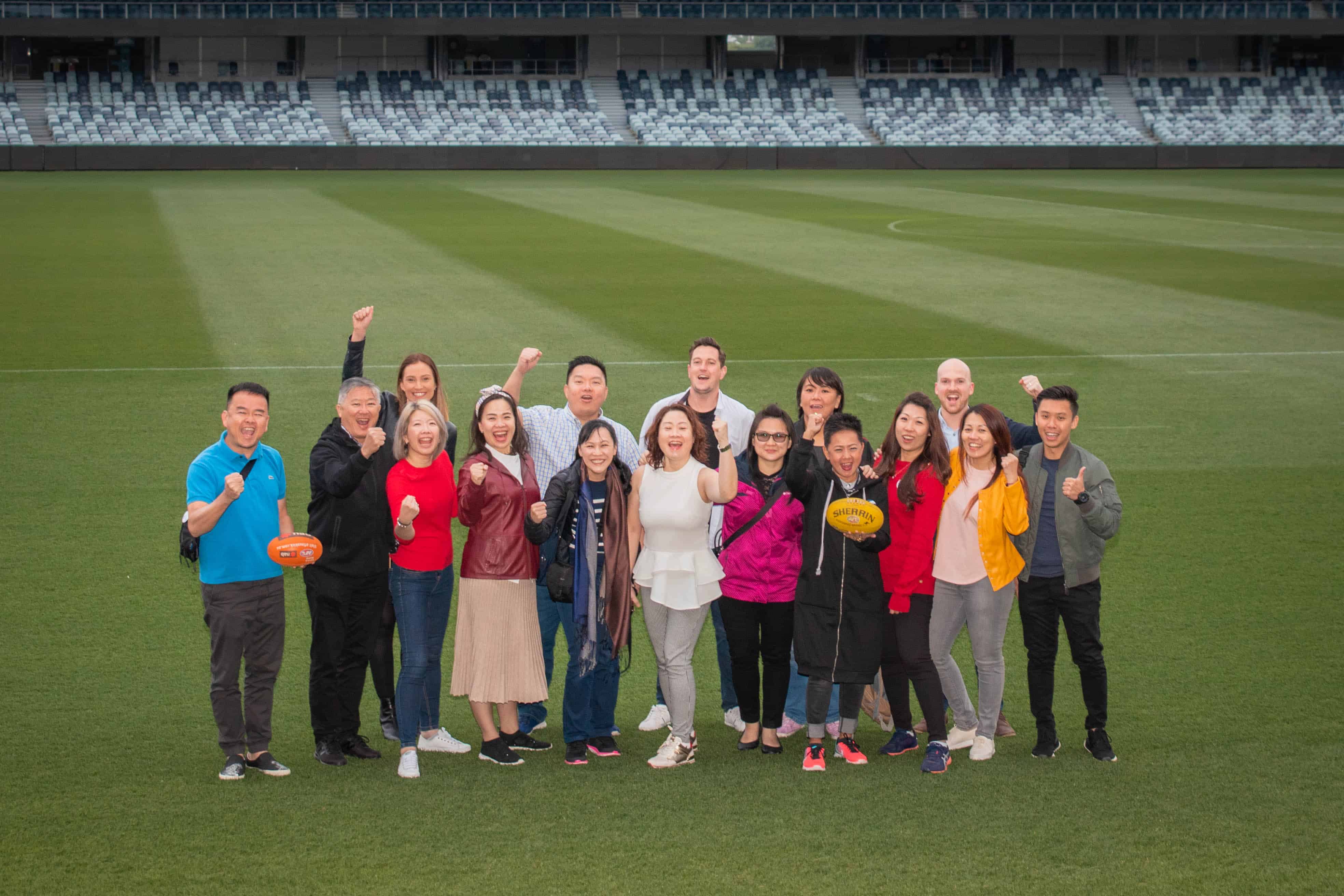 Thirteen top-level incentive planners from Southeast Asia experienced the best of Geelong and The Bellarine last week on an exclusive familiarisation of the region organised in partnership between Business Events Geelong, Melbourne Convention Bureau, Mornington Peninsula Tourism and AirAsia.
The agents arrived on AirAsia's Kuala Lumpur to Avalon Airport Service in the evening where they were welcomed by Business Events Geelong Convention Bureau Manager Mark Day and AirAsia representative Burt Niu. The group then boarded a transfer to Melbourne where they spent the night before donning their best suits and fascinators for a day out at an iconic Australian sporting spectacle, the Lexus Melbourne Cup Day at Flemington.
In the evening, the group headed out to Mornington Peninsula where they checked into Peppers Moonah Links before indulging in a beautiful meal at Pebbles Restaurant. Other Mornington Peninsula highlights included a dip at the famed Peninsula Hot Springs, sight-seeing on the Arthurs Pass Eagle gondola, a site-visit of Jackalope Hotel and a sculpture tour of Point Leo Estate.
Next stop for the group was the idyllic Bellarine town of Queenscliff where they travelled 40 minutes aboard the Searoad Ferries service from Sorrento. Unfortunately, bad weather prohibited the group from hopping into the water with Sea All Dolphin Swims to discover some of the region's unique wildlife, however, they did get a chance to speak to the operators about the experience and inspect the vessel. In the afternoon, the group boarded the historic QTrain, a fine dining restaurant the travels on the historic Bellarine Railway where they were treated to a scenic ride and a sweet treat.
Later, the group checked in at Novotel Geelong, a waterfront property that boasts beautiful views over sparkling Corio Bay, before heading over to GMHBA Stadium for a lovely progressive dinner and a showcase of the mega venues many event spaces.
After a good night's rest, the famil group arrived at Little Creatures for an exclusive craft beer tasting session and a tour of the unique venue, before taking to the skies for a scenic flight with Geelong Helicopters. The flight landed at Jack Rabbit Vineyard where a delectable lunch was waiting for them on arrival. Afterwards, the group departed to Narana Aboriginal Cultural Centre where they learned more about the world's oldest civilisation by participating in a number of engaging activities and experiences.
The final dinner was held at ALMA, a contemporary Australian restaurant inspired by the flavours of South America.
"We were so honoured to introduce this group of respected incentive planners from Southeast Asia to Geelong and The Bellarine,"  said Mark Day, Convention Bureau Manager, Business Events Geelong.
"Initial feedback from the group has been extremely positive. I have heard from many of the participants that the famil has opened their eyes up to many possibilities and opportunities to host their events in our region."
"Hosting this familiarisation program is part of our strategy of ramping up our international presence. There is so much to discover in our region and we will continue to push the messaging that Geelong and The Bellarine are open for international incentive business," he said.
Melbourne Convention Bureau CEO Julia Swanson said: "A huge thank you to our partners for turning on a spectacular famil and in curating an inspiring itinerary that is entirely unique to Melbourne and regional Victoria."
"By working together with our partners and industry we ensure we bring the city and regional Victoria together to keep our destination's offering constantly evolving and adapting to latest trends and client's requirements."
"Melbourne is such a compact city with regional country and coast destinations within an hour's commute. It is very easy for day trips and overnighters in regional Victoria – incentive groups can truly enjoy the best of both within the one stay," she said.
Commenting on the program, AirAsia Commercial Head Matana Thienthong said: "AirAsia is committed to enhancing the success of our Melbourne Avalon services and supporting local tourism growth in the region.
"Operating out of Avalon Airport offers our guests a number of advantages including a quick and easy drive from the centre of Melbourne on uncongested and toll-free roads, quick and easy check-in and security processes and an international terminal currently dedicated solely to AirAsia guests.
"We were proud to be able to support the local operators for this famil and pleased to see the program is contributing to raising awareness of the wider Geelong area."
Sign up to stay up to date with all the latest news