The ultimate guide to throwing the best Christmas Party ever in Geelong & The Bellarine
There's a lot of pressure on the designated Christmas party planner. Everyone's got an opinion on how the event should go. And as the event organiser, you're tasked with balancing everyone's expectations, preferences and personalities. It's hard work. We get that. That's why we've decided to make it easy for you and produce the ultimate guide to celebrating the silly season in our gorgeous region.
EXPERIENCES 
For a bouncing good time…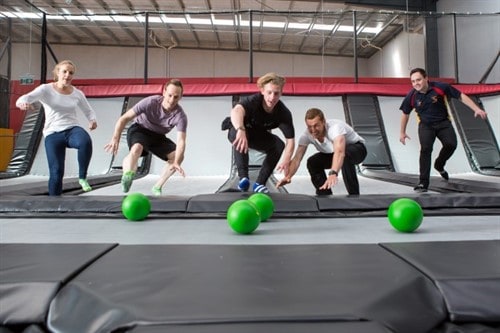 A day out at Supatramp will have you and your team jumping for joy. With 90 connected trampolines and over 20 climbing walls to conquer, the staff at SupaTramp will have your team testing their limits with trust drops, slam competitions and more. The best part? Their event packages can be tailored to suit the individual needs of your team.
Make it a golf day out…  
The latest craze to hit the corporate break out and work break up scene is indoor golf at X-Golf Geelong. Recently opened by young local golfers Alex Makkreel (previously The Sands Torquay), Dan Shears, and Peter Nolan (PGA Professional), this indoor golf escape offers a relaxed sports bar feel and a party atmosphere for up to 60 participants of all golfing abilities. Designed for raw beginners right through to the accomplished golfer to enjoy, X-Golf brings back the fun and social side of the game we all love to play.
Bring your team closer together…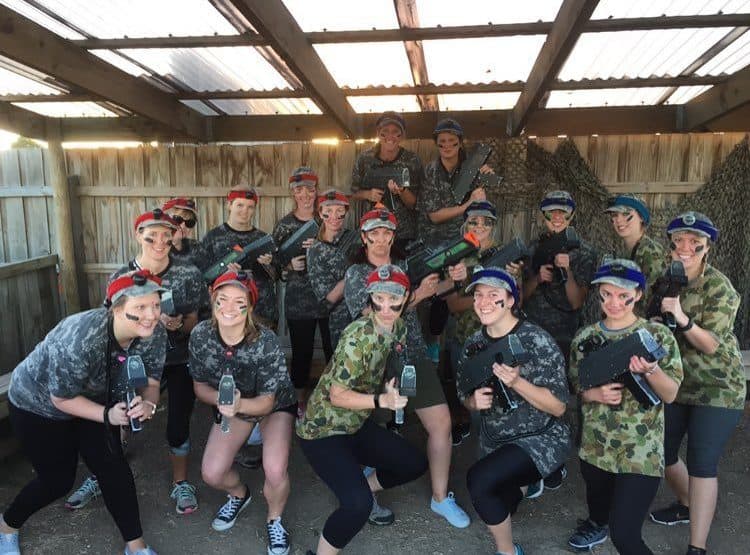 By having them shoot each other with lasers. Next Level Skirmish Geelong will introduce your team to the world of battlefield sports. Laser Skirmish guns are completely harmless (unlike painful paintball guns) and are operated via infra-red light. Doesn't make the stakes any lower though. Remember the time that co-worker left their mug unwashed on the bench? Here's where you can get your payback.
Challenge yourselves… 
With Christmas Cluedo. The scenario? Santa needs your team's help to prevent the theft of more Christmas toys. The objective in this festive team building program is to sift through evidence, decipher clues left behind by the thieves and be the first to apprehend the offenders. This and many more silly-season themed challenges are available from Corporate Challenge Events
Put on your thinking caps… 
Fancy yourself as a bit of an armchair detective? If so, then this is the activity for you. Escape Rooms Geelong will throw you and your team right into a real-life mystery and have you working together to solve it. The challenge starts at an old haunted house which leads to a mysterious room that has been left untouched for more than half a century. Who was the owner? Why did they leave? Only you and your team can find out. This experience is perfect for more intimate groups.
Make it a marine adventure…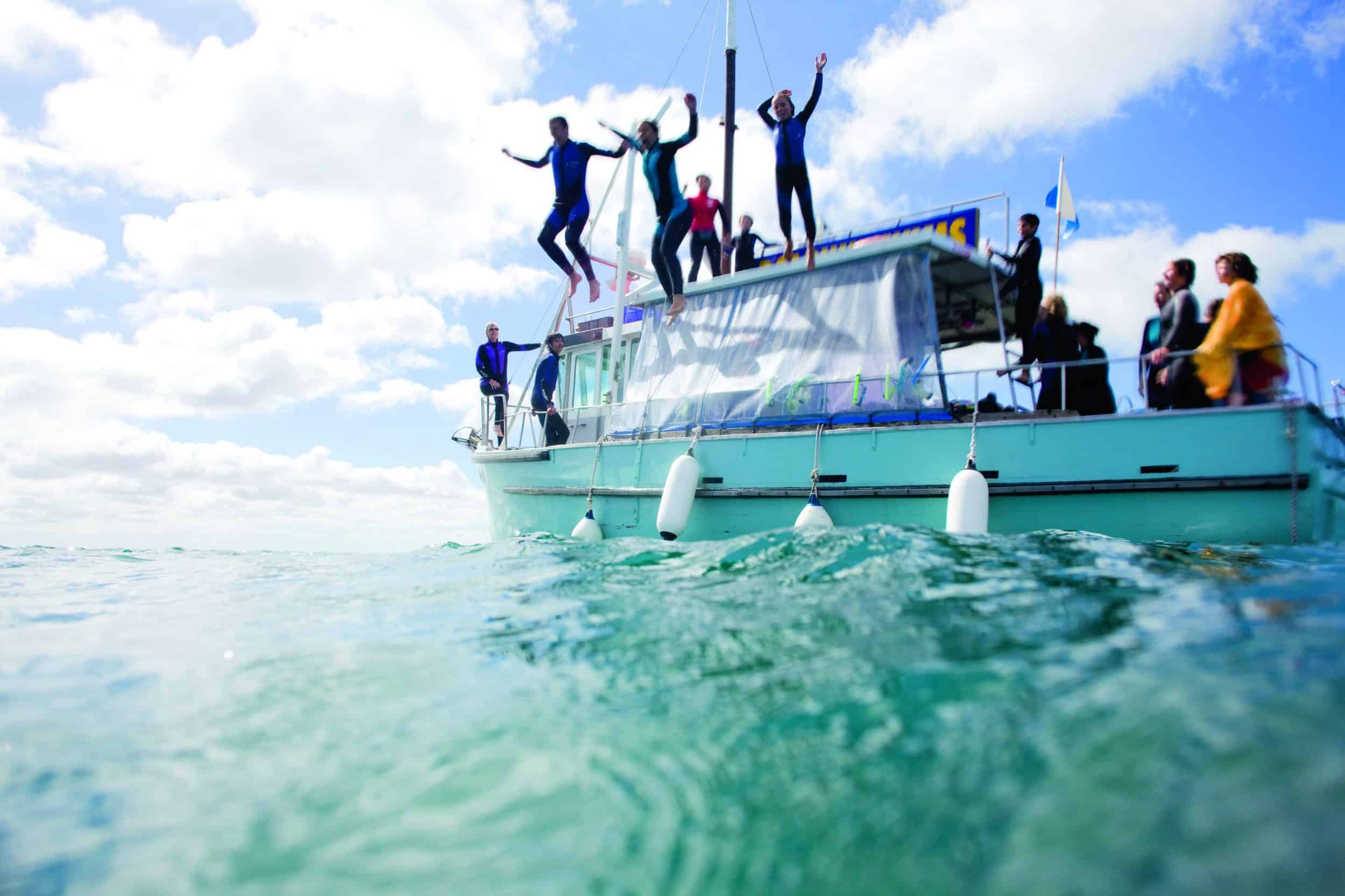 Start your silly season celebrations with an unforgettable experience – swimming with dolphins. Sea All Dolphins operates a number of marine adventures that are perfect for end-of-year celebrations. If you're keen to get your team amongst nature to interact with some cheeky marine life, then this is the experience for you. Additionally, the recent purchase of a 25-seater bus means that Sea All Dolphins will also be able to drop your team off at a pub afterwards to cap off the evening.
A roaring good time…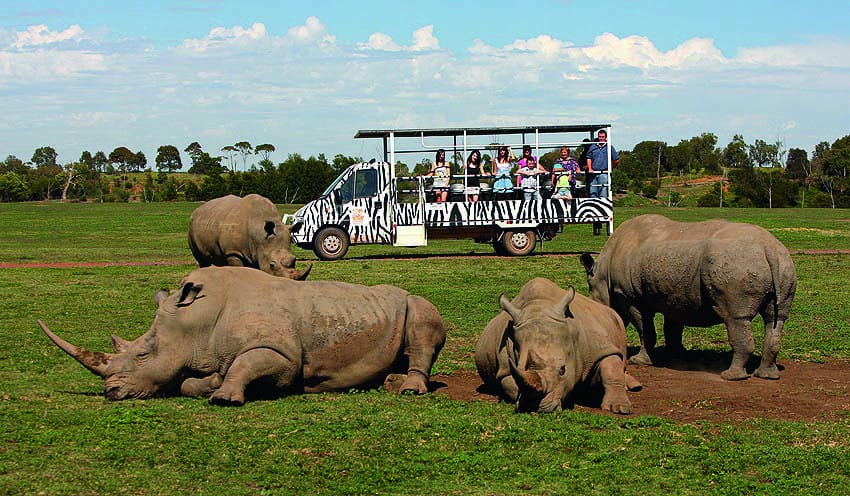 Take your team on a safari without leaving the country at Werribee Open Range Zoo. The Sunset Safari is a brand new experience at the zoo which kicks off at dusk and gets you up close and personal with some of the world's most iconic animals. Start the evening with a complimentary drink on arrival at the pop-up bar, then set off on the night's three incredible experiences. Adventure onto the Savannah for a guided sunset tour, feast with friends at an intimate dinner of African cuisine, and enjoy an immersive performance that showcases the rhythm and soul of Africa.
WINE AND BEER 
…Did someone say beer?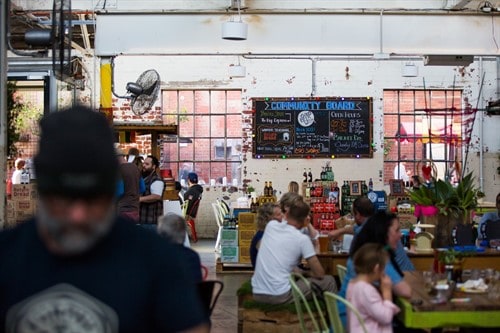 Little Creatures Brewery is a local institution here in Geelong. The craft brewery is a little bit like Willy Wonka's chocolate factory — only for adults. It has a bustling canteen, mysterious White Rabbit Barrel Hall and a colourful Mystery Lane to explore. Kickstart your experience with a brewery tour where you'll get the chance to taste all the different varieties produced on site. There are also three exciting event spaces for you to host the perfect silly season soiree.
Wind down with wine… 
New on the scene is Provenance Wines, a boutique winery situated within an old paper mill built in the 1870s. Despite having only just recently opened, Provenance Wines is already collecting accolades left, right and centre. Most recently, it was awarded Best Value Winery of the Year by James Halliday. Choose between two gorgeous event spaces: the magnificent Barrel Room and the River Room. Dubbed an 'Industrial Cathedral' the Barrel Room is the main function space at Provenance. The room, which is lined with wine barrels, is 38 metres in length and has expansive ceilings. It caters for up to 250 pax cocktail. For more intimate get-togethers, the River Room is another excellent choice. It offers gorgeous views over the Barwon River and can accommodate up to 50 guests in a cocktail settin
VENUES GALORE 
To really set the scene… 
If you're keen to keep your comrades closer to the city centre, The Pier Geelong is an awesome choice. The spectacular waterfront venue boasts a number of diverse function rooms perfect for a Christmas party. The views from the venue are stunning, so expect to strike a pose because selfies are a given.
 A 'meowy' Christmas to you… 
If there's one thing you should know about Geelong, it's that we're really, really into our sport. It's pretty much written into our DNA. The pride of our little city is our AFL team, the Geelong Cats. So if you're looking to throw a soiree worthy of a mad sports-head, the GMHBA Stadium is the venue for you. The stadium is the largest venue in the region, offering a whopping 32 function rooms. This year, Cats Stadium is hosting it's very own shared Christmas Party which is perfect for small businesses and groups to experience Cats Hospitality. The package includes a three-course meal, four-hour beverage package, live band and dancefloor, Christmas raffle, door prizes and free onsite parking. Click here to learn more.
TRANSPORT 
Getting there…
Here in Geelong and the Bellarine, we like to think of 'safety' as our middle name. That's why we think it's super important to have a good transport partner on board for your Christmas party plans to help get your staff from point A to point B safely. Murrell has been in operation in our region for three decades and has a huge fleet of vehicles for you to choose from. They offer everything from stretch limousines through to 24-seater minivans. Get in touch with the team here to discuss transport logistics!
Sign up to stay up to date with all the latest news