Meet Liberty Balloon Flights – an exciting new team building experience in Geelong & The Bellarine

Business Events Geelong sat down with Nick Brau, chief pilot at Liberty Balloon Flights, to learn more about the exciting new team-building experience taking off from Geelong and The Bellarine.
How long has Liberty Balloon Flights been in operation for?
As a pilot, I have been flying Melbourne since 2002. I became Chief Pilot for two of the balloon companies and acted as such for 11 years until we opened Liberty Balloon Flights in 2017.
Do you believe that hot air ballooning is a good team-building experience? Why?
Ballooning is special in that it always has a component of adventure in it. You take off and never know exactly where it is that you will land. This does not mean balloons have no control, as a matter of fact, they have very precise altitude control characteristics. With these, pilots navigate winds at different heights to direct the balloon to the most suitable landing areas. We might land in a paddock we already know the owners of and we are welcomed there; but many times we land in a new location and this means we need to negotiate our way out through new gates, meeting new landowners…even sometimes getting bogged in mud and having to switch on our 4×4 personality and deal with the circumstance as best we can. We call ballooning "The Peaceful Adventure" because this is what it is. We require our passengers to help with various tasks and here different personalities excel. Much in ballooning is common sense and also being able to get "rough and ready" to deal with what nature has thrown at us on the day. Mostly it is an easy morning and it is fun and different. Passengers will not forget, ever, the day they went ballooning with a group and it certainly is an activity to actively participate in and getting to know people you share this activity with.

Describe for our audience what a typical flight with you entails.
We meet early – 1 and half hours before sunrise – as a matter of fact. Still dark and normally chilly, we will drive passengers to the determined launch site for that day (we have many scattered geographically to choose from, depending on wind directions). Once there, we start with preparations which take approximately half an hour. Passengers can help with unloading the equipment, stretching the fabric out, hold the mouth of the balloon open so that the powerful fan can fill the envelope up with cold air. The size of a balloon still surprised people as they take shape into a huge and gentle monster of a thing. Once full of cold air, the pilot will ignite the burners and with a powerful flame will heat the volume of air up until the whole aircraft stands up gallantly.
This is the cue…all aboard and after a quick but important briefing, up you all go to float in the wind for about one hour. The flight itself is gentle and peaceful and it never ceases to surprise how quiet it is. A balloon flight is to contemplate, to absorb nature during those first moments of a rising sun. The adventure is an ideal moment for cameras to come out and a shared experience with those you are in the air with. No, no one is height sick in a balloon. Difficult to explain why but trust us on that one, you will feel fine as there is no real sensation of depth in a balloon, even when you might be up at 5,000 feet! After about one hour the balloon will land, normally in a paddock or in one of the city's parks if calm enough. From here and after packing the balloon away (1/2 hour of audience participation here!) and a champagne toast on the landing field, we head back to a well-deserved breakfast after the flight. The venue we normally use is the Wharf Shed, a great breakfast on the waterfront itself.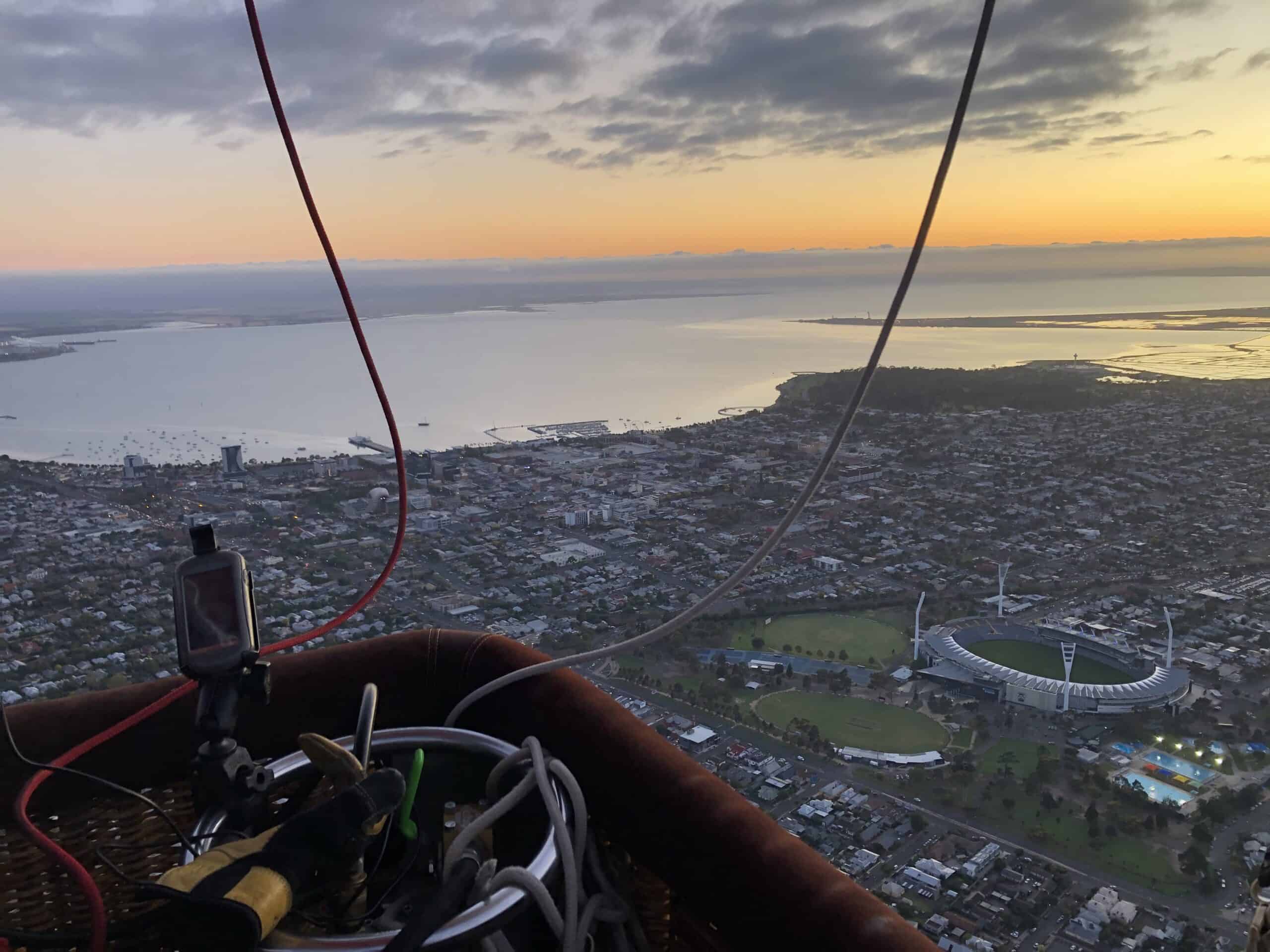 What is your favourite take-off point in our region and why?
There is no favourite because, with the right light, any location can be fabulous. Light SE or NW winds certainly allow us to fly closer to the bay and yes, the views on these flights are guaranteed stunning.
What do you have to say to those people who may have a minor fear of heights?
In 27 years of ballooning experience I (Nick Brau), as Chief Pilot, have never had anyone not be able to conquer that fear and come up on an unforgettable experience. It helps that I know that you will feel fine once airborne and, for those very fearful people, you can actually stand back and let others lean on the side and look out. There are spaces in the basket that are more exposed than others. Just let us know and we will place you where you will feel comfortable.
Is there anything else you would like event organisers to know?
When ballooning, you are participating in the most ancient sport of floating in the wind. The first hot air balloon flight happened in  November 1783 and they have been going ever since!
Interested in taking to the skies? Contact the team at Business Events Geelong by clicking here for more information.
Sign up to stay up to date with all the latest news